DR. DAVID C. PAGE
AAFO CLINICIAN OF THE YEAR
In March 2003, The American Association for Functional Orthodontics presented the "Clinician of the Year Award--2002" to Charter AAFO Member Dr. David C. Page, at the AAFO annual national conference, in Washington D.C. This prestigious award is given to the clinician who, in the previous year, has exhibited to the AAFO knowledge, innovation, and active participation in the field of orthodontics, orthopedics and TMJ to the benefit of the profession and to our colleagues.
Photo #1: AAFO President Dr. Craig Stoner names
Dr. David C. Page AAFO Clinician of the Year--2002.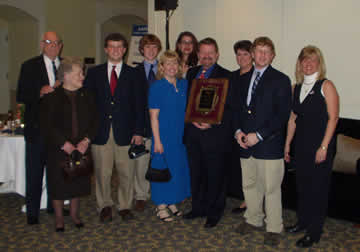 Photo #2: Dr. David C. Page and Dr. Charles L. Page,
with Family and Staff
The AAFO is an independent organization, serving its members with the most up-to-date and thorough information and support available worldwide on the subject of functional appliance therapy. The mission of the AAFO is to provide continuing education to general dentists, orthodontists and pediatric dentists with an interest in functional appliance therapy, to treat patients with functional solutions that revolutionize orthodontic care. The AAFO serves its members through publication of its journal, The Functional Orthodontist, its annual national conference, various educational courses by the world'sleading experts on functional orthodontics and TMJ therapy, and an extensive array of other professional resources.
Dr. Craig C. Stoner, a general dentist practicing in Winchester, Virginia, and the late Dr. J. Robert Bronson, an orthodontist who practiced in Front Royal, Virginia, founded the AAFO in 1982. The organization has evolved from a functional jaw orthopedic study club to the largest functional orthodontic association of its kind.
Today, the AAFO serves over 2,000 members worldwide with industry-leading communications, publications, seminars, a national conference and a vast array of other member benefits--all designed to help practitioners master the latest techniques for treating patients using functional jaw appliance therapy.